Activities in Greece
Not only is Greece a stunning place to visit due to the sheer nature of the dramatic scenery, sparkling blue water and traditional white-washed buildings;
it's also a wonderful place to take in or discover various outdoor adventures!
Check out the following activities you may want to partake in before or after your Yoga Teacher Training in Greece or on one of your days off.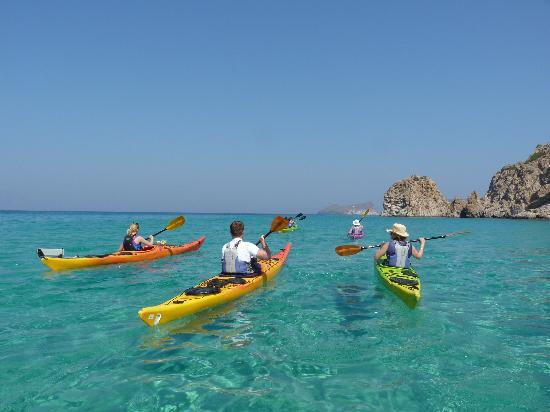 Beaches – of course lounging on a soft white sand beach is always welcome, especially after an intensive training.
Island hopping boat trips – the Greek Islands are one of the best places on the planet to spend time on a boat in the Mediterranean.
Sailing – in fact, what better place to learn to sail or rent a sailboat if you're already experienced?
Hiking & Walking – terraced landscapes provide perfect paths and spectacular scenery to plan a sunrise or sunset hike!
Archaeology – tap into your inner archaeologist and visit Athens or the UNESCO World-Heritage city of Delphi.
SCUBA – ever wanted to see an ancient underwater ship wreck site? Now's your chance to see history up close.
Snorkeling – enjoy crystal clear water while casually swimming.
Kayaking – explore the rugged coastlines and shallow bays while taking in a relaxing paddle.

Party in Mykonos – a plethora of bars, clubs and even restaurants offer the notorious Mykonian experience famous since the 70's. See what all the hype is about and prepare to dance 'til dawn. Party not your scene? Grab a cocktail and simply chill out at a beach bar while watching the sun dip into the Mediterranean.
What's on your agenda while visiting the Greek Islands?