New York Yoga Deals
We all know New York is an expensive place to live, but practicing Yoga in the city doesn't have to be an expensive endeavor. Most studios have New Student Specials or introductory rates that give you an opportunity to see if you jive with their yoga community. Here's a break down of some popular studio deals in New York and some hidden gems too! Remember, the New Student Specials usually have to be purchased on your first visit to the studio!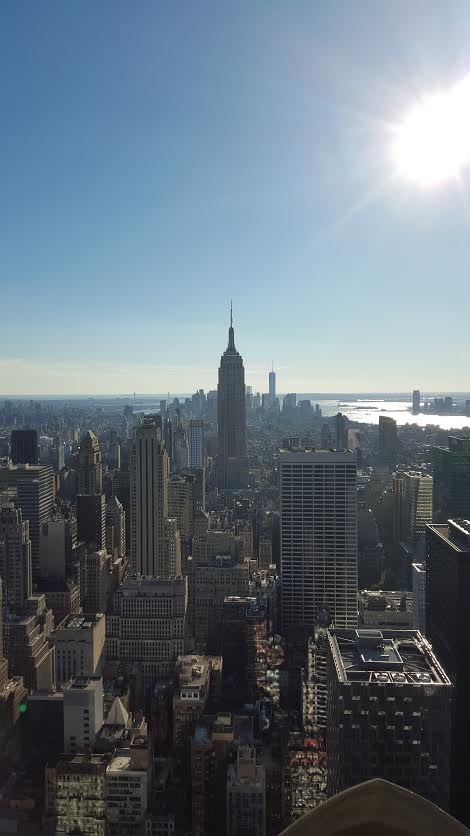 Laughing Lotus – 1 Month Unlimited $39
With poses like "Unicorn" and "Dancing Ganesha" these soulful classes make you feel like you're dancing on the mat with a killer playlist! Near Union Square. There's also a Brooklyn location.
636 6th Ave, 3rd Floor, New York, NY 10011 Phone:(212) 414-2903
Modo Yoga – 1 Month Unlimited $40
If hot yoga is more your style check out this branch of Moksha – the popular Canadian brand.
434 6th Ave #2, New York, NY 10011 Phone:(212) 780-9642
Ishta Yoga – 1 Month Unlimited $65
An "Integrated Science of Hatha, Tantra, and Ayurveda," as described by founder Alan Finger. Carri recently did her Yoga Nidra training here with Mona Anand.
56 E 11th St, New York, NY 10001 Phone:(212) 598-4800
Lyon's Den Power Yoga – 1 Month Unlimited $89
Owned by Bethany Lyons Murray, a classically trained ballet dancer and a master teacher for Soul Cycle, this Baptiste Power Yoga Studio boasts hot sweaty classes to bring out your courage and make you roar!
279 Church St, New York, NY 10013 Phone: (646) 490-8888
Jivamukti – 1 Month Unlimited $99
A New York institution for over 30 years! Spiritual Vinyasa classes that include Dharma talks and chanting. The delicious vegan cafe on site makes an excellent place for a post-yoga chow down or a meeting with a friend.
Union Square – 841 Broadway #2, New York, NY 10003 Phone:(212) 353-0214
Yoga Vida – 2 Weeks Unlimited $20
With 2 expansive locations and names like Kat Fowler, Matt Sweeney, our friend Dana Slamp and Stephanie Culen (one of Carri's personal mentors) this is quite a steal!
99 University near Union Square & 666 Broadway – near Houston.
Sangha Yoga Shala – 2 Weeks Unlimited $40
A beautiful boutique studio in the heart of Williamsburg with everything from Mysore to Pre-Natal and Meditation. There's even an Express class if you're short on time! Our very own Sarah Walsh was a favorite teacher here before relocating to San Francisco. Owner Alana Kessler is a native New Yorker and a dedicated Ashtanga Yoga practitioner.
107 North 3rd Street #3E Brooklyn, NY 11211 Phone:(718) 384-2097
Five Pillars Yoga – 1 Week Unlimited $50
Co-owned by Olga Palladino, long-time Exhale instructor, this gorgeous space on the Upper East Side specializes in Vinyasa classes from a variety of well-known NYC teachers. Erika's Therapeutic Yoga classes are particularly unique and healing plus they are the only studio in NY that offers this in a classroom setting!
1298 Madison Ave, New York, NY 10128 Phone:(212) 426-6111
@92nd & Madison above Juice Press
Katonah Yoga – 3 classes $30
More than likely you've never had a yoga class like this "Sacred Geometry" method – finding your center, your circumference and everything in between. Nevine has been practicing and teaching for 35 years and each class is almost like a mini-workshop!
267 West 17th St2nd Floor New York, Phone: 212.255.2188
Kula Yoga Project – 3 classes $30
Home Studio of Schuyler Grant – Founder of Wanderlust. Intelligently designed Vinyasa classes that will have you popping up into handstands in no time, but they also have Qi Gong if you prefer to be more grounded. The Williamsburg location now has a Mysore program for the Ashtangis.
Tribeca – 28 Warren St. 4th Floor NYC Phone: 212.945.4460
Pure Yoga – $10 Community Classes
While the monthly membership may be a bit pricey, the community classes are free to members or a $10 drop in for anyone.
This urban oasis is spa-like in nature complete with showers, towel service, and Kiehl's bath products.
The Community classes are taught by new teachers who are mentoring with Pure Senior teachers. One of our Drishti Alumni – Sara Brown taught a Community Class on the Upper East Side while mentoring with Juan Gamboa, guest teacher on our Yoga Teacher training in Santorini, Greece last summer.
Pure also has a location on the Upper West Side.
PURE EAST 203 E. 86th St @ 3rd Ave – Across from Athleta Phone: 212.360.1888
Yogaworks – 1 week Free or 2 weeks $30
With several locations and class styles, you're sure to find something at this classic long-time establishment.
Got a Yoga deal for us? Share your secrets below!